Ravenous and Bulletproof Outlaws' Side-Scrolling Action Game 'Paranormal Minis' Resurrected (Again!)
All the way back in November of 2013, Ravenous Games once again teamed up with Bulletproof Outlaws, the artists they worked with on their popular platformers League of Evil 2 and 3, on a new action shooter called Paranormal Minis. Originally a dual-stick shooter, progress on Paranormal Minis sort of languished in the face of other projects, until a full year later when Ravenous revived the project and overhauled its dual-stick design to make it a more traditional side-scrolling action shooter/brawler. Unfortunately, both teams once again became busy and poor Paranormal Minis got put on the back burner once again. Now, well over a year later, Ravenous has again resurrected the thread for Paranormal Minis to announce that work has begun yet again on the game, and they offered up this brand new screenshot.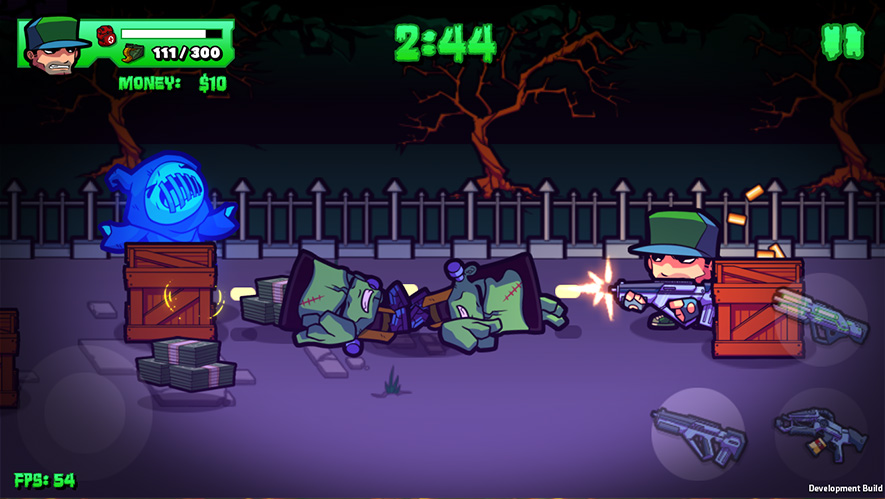 Ravenous says that in the past couple of weeks they've added in new weapons to Paranormal Minis, including ones with explosions that cause splash damage (Hello rocket launchers!) and ones that do damage over time (flamethrower!). They've also implemented 4 playable characters each with unique stats, as well as different skills you can equip to those characters do boost things like weapon damage and movement speed. They're hoping to finish up some menu work and have an alpha version of Paranormal Minis up and running in a couple of weeks, and they estimate that they'll need another month or two to (finally) wrap up the entire project. Let's hope this one doesn't get sidetracked again as it looks really awesome!